Jones and Krayacich took their first international service trip in 2000, shortly after Jones joined Rotary. (Due to schedule conflicts, Krayacich didn't join until 2010 when a breakfast club was chartered, two minutes from their house. "She wasn't even the one who asked me to join Rotary," he chuckles.) They went for five weeks to the Brazilian Amazon, where Krayacich ran a medical clinic and Jones produced a fundraising video for the clinic and created a training program for local journalists. "Once we went on an international Rotary service trip, it resonated very profoundly with me," she says. "I knew this was something I wanted to do more of — to help people tell their stories, to find the narrative in what we were doing and come back and share it."
In 2001-02, she served as president of the Rotary Club of Windsor-Roseland. Every meeting, she'd randomly pick a member, have them stand, and tell them why they were important to the club. "Every week, people would show up to see who the next person would be," she says.
It taught her a lesson about the importance of taking care of members, a priority now that she is RI president. "We were having fun, doing good work, and we liked each other," she says. "Sometimes we try to over-manufacture the reason why people join and stay."
At that point, her district had never had a female governor. She was under 40, and she "wanted to try to take that for a ride," she says. "I knew I wanted to put my full-on energy into Rotary. I loved it."
After her term as governor in 2007-08, she chaired the local chamber of commerce and the University of Windsor board of governors. "It was the most amazing precursor to sitting on the board of directors of Rotary," she says. "Each one was a building block."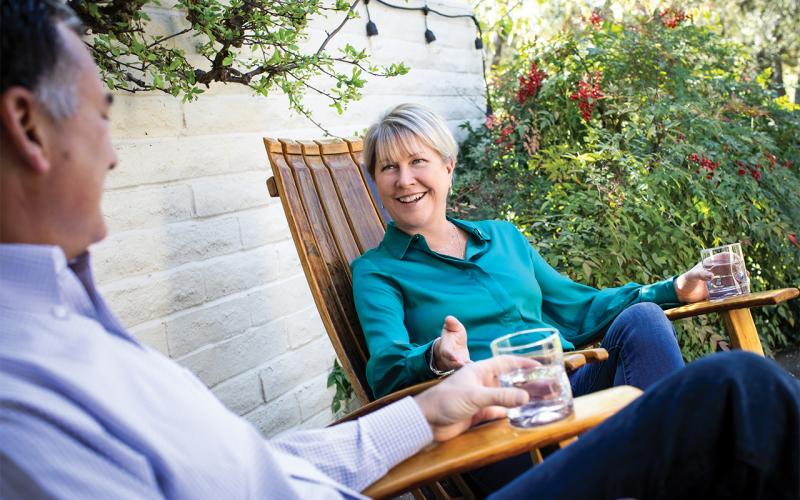 In 2009, when Jones was diagnosed with breast cancer at the age of 42, her days turned to chemotherapy and radiation. She got the diagnosis in the fall, and she had been asked to speak at the International Assembly, the training for incoming district governors-elect, in January 2010. Then-RI President-elect Ray Klinginsmith encouraged her to come if she was able. In consultation with her oncologist, she decided to attend. "The Sunday before, I lost all of my hair," she says. "I showed up at the event in a wig."
Some technical issues interrupted her speech, but it still made an impact, most of all on her. "At one of the lowest points in my life, someone didn't count me out," she says, tearing up. "It was just such a message that I needed at that point in time. That I had value, that I could contribute and participate. He gave me hope at a time when you think that maybe hope isn't what you're going to get."
Jones went through eight rounds of chemo and 21 rounds of radiation. Her employees stepped up to keep her business running as she stepped back. That too proved pivotal. When her health improved and she prepared to re-engage with her work, she looked at what her team had accomplished. "I sat back and thought about it," she says. "If I go back in as I was, I'm going to rob them of the leadership growth they would have had." She decided to pass the day-to-day operations of the company to her team so she could pursue Rotary almost full time.
"I wouldn't orchestrate having cancer again," she says, "but I can definitely say I wouldn't be sitting here where I am today if all of these things hadn't happened."
When the COVID-19 pandemic shut down the world in March 2020, Jones was fresh off a monthlong Rotary trip, which started in India for its Rotary centennial, continued in Nepal to visit a project started by a Rotary Peace Fellow, and concluded in New Zealand for the South Pacific presidents-elect training seminar. In the airport traveling home, she began to see people wearing masks, but she still thought she'd be back out on the road within weeks for a scheduled appearance at a district conference in Nairobi, Kenya.
Then, suddenly, the world changed. "I remember the moment I heard that the border between Canada and the United States shut down," she says. "In my life I could never have envisioned hearing those words."
"She really inspires me to keep doing what I'm doing. That it's OK that I'm a leader and that I'm a woman."
Jones and Krayacich isolated at their cottage on Lake Erie, about half an hour from their house. "I still remember waking up at 3 o'clock in the morning and flipping open my phone to look for a newsfeed to find out what was going on. That sense of unknown we all went through at that time was so horrific."
Jones was a Rotary Foundation trustee at the time. She watched with pride and amazement as Rotary members quickly applied for disaster response grants from The Rotary Foundation to fund service projects. But she wanted to do more. Previously, she'd drawn on her vocation to plan large fundraising events for the Foundation, such as a golf outing with Jack Nicklaus in 2019. She called then-RI President Mark Maloney and pitched the idea of a telethon.
The idea came together over a matter of weeks. Jones reached out to her vast network of contacts in the Rotary world and asked them to send videos. "We really wanted to capitalize on what we could do in real time for people," she says. "Yes, raising critical funds was important, but more than anything, it was an opportunity to bring together people from around the globe and to showcase that we're people of action — even though we were all isolated in our own homes, we were able to do something." (More than 65,000 people tuned in to the event, hosted by Past RI President Barry Rassin and Past RI Director John Smarge, which raised more than $525,000 for the Foundation.)
One of the people who contributed a video was Anniela Carracedo. A Rotary Youth Exchange student in Mississippi in 2019-20, Carracedo could not return home to Venezuela when the pandemic struck. Stuck in the United States, she started Rotary Interactive Quarantine, a global youth network for Interactors and Youth Exchange students. Jones messaged her in a chat during an online zone meeting and asked her to create a video about the youth network for the telethon.