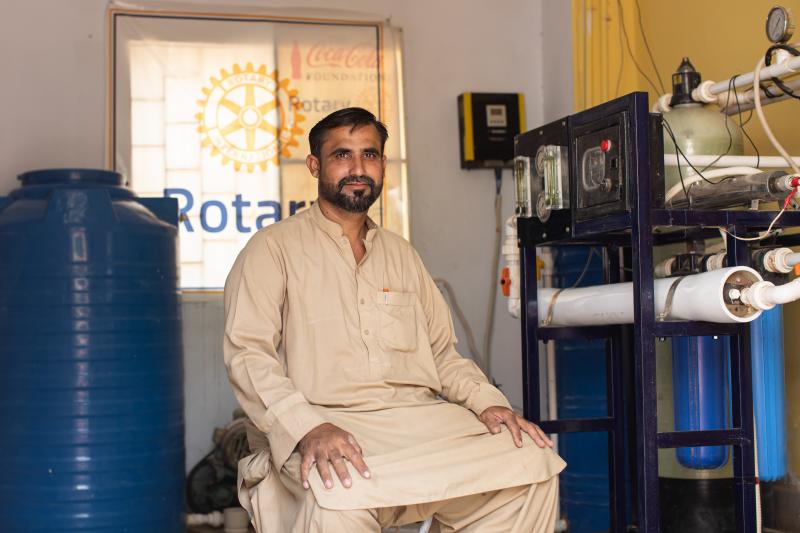 In a report issued the same month, the Independent Monitoring Board, a group of experts who assess progress toward a polio-free world, highlighted the slow progress toward improving water and sanitation in parts of Pakistan deemed "super high risk." The board called directly on Rotary to help bridge the gap between the polio program and other programs and funders. "Rotary International is greatly respected as having a 'can-do' capability in advancing practical action of this kind," the report stated.
While the improvement of water and sanitation in these areas helps stop the spread of polio, the new infrastructure helps build goodwill for the polio program. "It all ties together," McGovern says.
Hence the "plus" in PolioPlus, Rotary's program that provides communities with benefits beyond vaccination — such as clean water, medical treatments, bed nets, and soap. In northern Nigeria, for example, Rotary and its partners sponsored more than 30 solar-powered boreholes, which helped develop trust among the vulnerable residents. The strategy worked: Nigeria reported its last case of polio in 2016, and the World Health Organization certified the Africa region free of wild polio in 2020.
In Pakistan, Memon says, Rotary members complement the water projects with health camps that assist families with other medical needs. "Health camps also send a very positive signal," he says. "It shows that our main focus is not polio alone, it's PolioPlus."
By the numbers
40 million

Number of Pakistani children under age 5 immunized each year

63

Percentage of polio cases in Pakistan in 2019 that involved zero-dose children, who had never received any essential immunizations

70

Percentage of Pakistani households that drink contaminated water
In Hassan Brohi Goth, another community in the Karachi metropolitan area, many people make their living by producing bricks in kilns. A smoky haze envelops the area, exacerbating breathing difficulties among health-challenged residents. The community lacks medical facilities. Its drinking water comes from a pipeline — which is broken, making the water unsafe to drink — or from vendors who charge more than many people can afford.
Rotary members worked with a kiln owner to provide a site for a water filtration plant. The plant, installed as part of a Rotary Foundation global grant sponsored by the Rotary clubs of Karachi and Maysville, North Carolina, went online in August.
"Through this water filtration plant, we've gained credibility and the confidence of the people," Ali says. "The people know us. It gives me a lot of happiness. The polio teams, whether from WHO or the government, all are welcomed."
This story originally appeared in the December 2021 issue of Rotary magazine.