The Best Chance to Eradicate Polio is Now
by Aidan O'Leary Illustration by Viktor Miller Gausa
"There's something about the whole idea of eradicating polio that grabs the imagination," says Aidan O'Leary. "Most people talk about making steps toward achievements, and it's almost always into the never-never. Eradication is a zero-sum game; anything short of zero is failure. You keep getting closer and closer, but ultimately the only number that actually matters is zero."
Although O'Leary, the polio eradication director for the World Health Organization, is speaking from his home in Galway, against the verdant backdrop of western Ireland, his focus is on war-torn Afghanistan and the parched and dusty plains of Pakistan — the last two places on the planet where wild polio still thrives.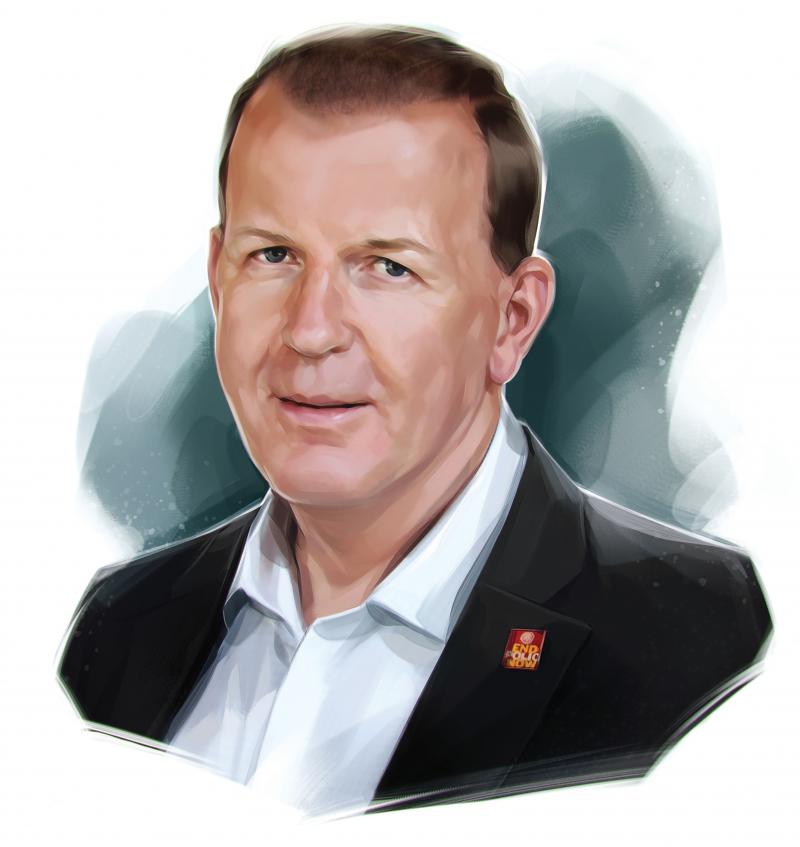 Even during a pandemic, even as grim realities confront him, O'Leary conveys a sense of optimism about the possibility of finally eradicating polio. "Particularly in the days of COVID-19, there is something that really resonates about snuffing out a highly communicable infectious disease," he says. "As COVID has taken off, it has also led a lot of people to better understand why now is the time to finish this job with polio."
Yet O'Leary's optimism is shaded with a sense of urgency and pragmatism. "There is absolutely no case for complacency here," he says. "What is really important is that we double down on reaching the persistently missed children who are a top priority for our program."
O'Leary, who began his tenure as WHO's polio chief in January, came into the job knowing the terrain well. He formerly led UNICEF's polio eradication efforts in Pakistan and was the head of the United Nations Office for the Coordination of Humanitarian Affairs in Afghanistan, Iraq, Syria, and Yemen, organizing the UN's emergency response during crises.
O'Leary says he understands the difference Rotary can make — both in a community and in the global fight against polio. In Galway, a local tradition involves kicking the limestone wall at the end of a 2-mile stroll on the Salthill Promenade along Galway Bay (the reason for doing so has been lost in the mists of time). In 2012, O'Leary explains, the Rotary Club of Galway-Salthill installed on that wall a box that bears the slogan "Small Change, Big Impact" and encourages walkers to leave a small donation, with all money collected going to local charities and institutions.
In July, weeks before the dramatic turn of events in Afghanistan, O'Leary joined Rotary magazine senior staff writer Diana Schoberg and Dave King, editor of Rotary magazine for Rotary International in Great Britain and Ireland, on a Zoom call to discuss the new strategy of the Global Polio Eradication Initiative (GPEI) and the new polio vaccine, and how they will be used to eradicate polio — once and for all.
What is the latest update on wild poliovirus?
The numbers are extremely encouraging. We've gone over a very bumpy road during the last two years. We had a fivefold increase in cases between 2018 and 2019, when we saw 176 cases, and we had 140 cases in 2020. But we've recorded just two cases this year [as of 27 July] — one each in Afghanistan and Pakistan. [Both cases were in January.]
The particularly encouraging part right now is that the program has a very elaborate network of environmental testing sites for sewage — almost 100 sites in Afghanistan and Pakistan that cover all of the major population centers. In 2020, almost 60 percent of the monthly test samples came back positive for poliovirus. This year to date, that percentage is probably around 15 per-cent. We have been unable to detect any wild poliovirus in Afghanistan since 23 February, and we've seen just five isolates in Pakistan since 12 April.
Why do you think that is? Given that some polio immunization campaigns had to be suspended last year, you'd think the numbers would have gone in the other direction. Is it because so many elements of society were shut down due to the pandemic?
While conditions in 2020 were certainly adverse both for surveillance and for the campaign operations, there are two areas that are helping us this year. One is reduced mobility — both within Afghanistan and Pakistan, and across the borders. When you look particularly at the experience in India, with the explosion of COVID cases in the first and second quarters of 2021 — and what were some very shocking images of funeral pyres — I believe that the drop in mobility has had an impact. There has also been a change in social norms, very simple things like social distancing and hand washing. Maybe that has made some impact, as well. But those are short-term changes.
With the conflict in Afghanistan, we don't believe that the benefits we're seeing from reduced mobility will continue indefinitely. We need to continue to prepare for the possibility of large-scale displacements across borders. We need to grab the opportunity that we have.
Now we're coming into the high season for polio transmission, so we'll continue to wait and see. There's certainly no complacency from our program.
"The single most important relationship that the program has is between a frontline vaccinator and the caregiver who answers the knock at the door."
Vaccines are on everyone's mind because of COVID. Has that affected acceptance of the polio vaccine?
For me, the more fundamental issues in Afghanistan and Pakistan center around household and community confidence and trust. If you get the basics of that right, you are 80 to 90 percent there. The challenge has always been reaching the other 10 to 20 percent.
The key issue is broader — the marginalization of communities. That's not something that can be addressed just at the household and community level. It requires a systemic engagement to try to make sure that we properly understand the community's actual needs and then that we connect those dots in a more reliable way.
The single most important relationship that the program has is between a frontline vaccinator and the caregiver who answers the knock at the door. That caregiver is usually the mother, and what's really important for our success is that the frontline vaccinator is a local woman who is well-trained and motivated to do what she's doing. If that relationship of confidence and trust is developed, then you're able to vaccinate all of the children inside the house.
Because of the suspension of house-to-house vaccination campaigns in 2018 in areas of Afghanistan controlled by the Taliban, more than 3 million children routinely miss vaccinations. Do you think that polio eradication is possible while the security situation in Afghanistan is so unpredicable?
We continue to speak with all parties. Our priority is the protection of children, and that requires engaging with all stakeholders. We have an agreement with the Taliban to conduct mosque-to-mosque campaigns, which we hope we'll be able to initiate in the coming months. In some cases, we'll be reaching children for the first time in several years. We'd like to build on those opportunities toward resuming house-to-house vaccination campaigns.
We don't have an all-or-nothing situation. Let's seize the opportunity to reach 40 to 50 percent coverage before we start talking about 100 percent. Will the campaigns in July and August be perfect? No. They're taking place against the backdrop of a growing full-scale conflict, so we have to make sure that we find appropriate ways of making that work.
There will be risks. Eight frontline workers were killed in eastern Afghanistan earlier this year in various targeted killings. In these contested areas, the de facto authorities on the ground shift. We need to make sure that we navigate these areas as sensitively as we possibly can.
We are also working on financing essential immunization coverage [universal access to all relevant vaccines], particularly in the provinces of the southern region of Afghanistan. We recognize that it's not just a polio gap. There's a much broader gap.
The other point that I would highlight is the importance of the surveillance system. Although we have not been able to reach all children with vaccinations, our surveillance system is continuing to pick up all the acute flaccid paralysis cases. There is a basic system in place that allows us to properly understand what's going on. We want to build incrementally and in a sustainable way to make sure that we have access in all of these areas for the purposes of our immunization programs.
What about in Pakistan, where 81 percent of the cases are among the Pashto-speaking population, who make up 15 percent of the overall population. Why are the cases so concentrated within that group, and what is the program planning to do to address it?
It's often presented as a vaccine acceptance issue, but I think it's much broader than that. Because of economic migration, among other reasons, you have this massive influx of Pashto-speaking people from across Afghanistan and Pakistan into Karachi. You're seeing this huge explosion of settlements — formal, informal, and everything in between. These settlements tend to be highly underserved. There can be issues between the state and provincial administrations and these minority communities. There's a wider issue around community acceptance, confidence, and trust.
The polio eradication program is one of the few programs that reaches these communities, but their needs go way beyond polio vaccines, including clean water and sanitation, nutrition, basic health services, and education. So when you are trying to access these informal settlements, you have this big residue of issues that polio essentially becomes the proxy for.
These issues are not strictly within the control of our program, but we recognize that to build the acceptance and trust of these communities, we're going to have to make a much more sustained effort than we perhaps may have been doing in the past. The idea on our side is to move from patchy and ad hoc initiatives to something much more comprehensive and systemic.