Rotarians are doers. As Rotary's vision statement proclaims, they want to live in "a world where people unite and take action to create lasting change." That's why they joined Rotary, and that's why they stay. They want to be engaged.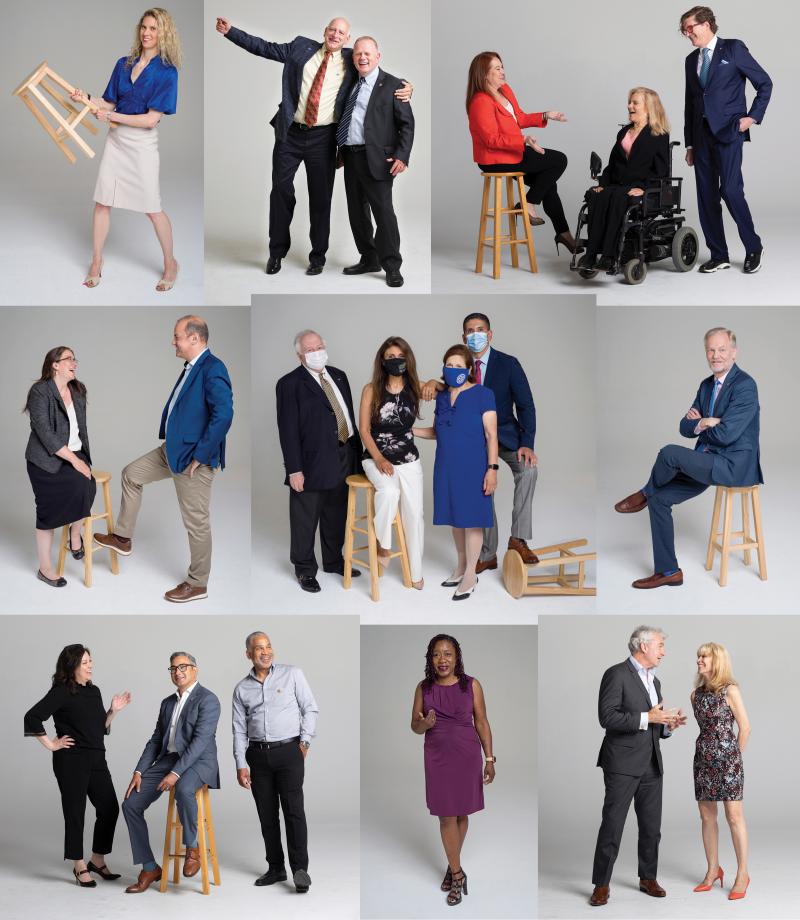 So how can your club ensure it is providing sustained engagement for its members? On the following pages you will meet seven Rotary clubs and see how they do it. In Texas, the Rotary Club of Plano West has gone all in on community service. And the recently chartered Rotary Club of Network for Empowering Women, with members in multiple U.S. states and several countries, has great advice for involving new members. Finally, leave it to Rotary's first five clubs to concoct a collaborative endeavor that is connecting current members in creative ways. Collectively, these clubs provide a model for how Rotarians can engage with the rich traditions of the past, the challenging conditions of the present, and our hope-filled expectations for the future.
First five collaborative
In 1913, on a Saturday in July, more than 100 men gathered in downtown L.A. and prepared to board the train that would carry them to the city's harbor. Members of the Rotary Club of Los Angeles were planning to visit the recently chartered Rotary Club of San Diego, and spirits were high. Some men were clad in the ornate uniforms of a marching band, some vamped it up as vaudevillians, and still others were dressed as policemen with comically large badges.
At the last minute, Herbert C. Warden, the club's secretary, refused to board the train. Over his protests, he was prodded onto the cars, and when the train arrived at the harbor, he was carried aboard the Yale — a swift, 407-foot-long steamship trimmed in the blue of its namesake Ivy League university — and handcuffed to a railing on its upper deck. Five hours later, the men were in San Diego, with Warden in their midst. His reluctance was likely feigned — another facet of the outing's entertainment — for he left a lively account of the trip in the September 1913 issue of The Rotarian:
"We were royally entertained by the San Diego club with a Dutch lunch Saturday night, a sight-seeing trip Sunday morning, and a visit to the famous Coronado hotel and beach in the afternoon and banquet at night. … The whole trip certainly proved a fine opportunity for the members to get together and to become really acquainted."
"We hoped that other clubs would feel inclined to join and network and get to know each other."
Though the story is more than 100 years old, Malinda Monterrosa still likes to share it; for her, it demonstrates the importance of fellowship to Rotarians — then and now. "They would just engage," she says. "That seems to be ingrained in the early history of Rotary. If you're really thinking about what Rotary is, it is truly a member organization. People are joining to get to know other people."
Monterrosa is the president-elect of the Rotary Club of Los Angeles — or LA5 as it's sometimes known, given that it was, on 25 June 1909, the fifth Rotary club chartered. It was preceded by the clubs of Chicago (1905, making it, of course, Rotary One); San Francisco (November 1908); Oakland, California (February 1909); and Seattle (June 1909).
In April 2020, Monterrosa, a marketing specialist and history buff who was about to become her club's program chair, thought about the communal spirit that had invigorated the members of the first Rotary clubs. COVID-19 had just shut down the country, and she wondered how, during a pandemic, she could bring together not only the members of LA5, but also other Rotarians. It was a concern she'd felt even before the pandemic.
"These days," she explains, "when you think about how we interact with other clubs, it's all very structured: the Rotary International Convention or a district conference or perhaps a global grant. You get to know each other, but it's almost like you need permission to engage with them." Monterrosa recalled her club's 1913 trip on the Yale and stories about how, in the 1920s, club members would hop on the train and head to San Francisco to spend the weekend with Rotarians there. A thought occurred to her: "Why don't we bring back the golden days?"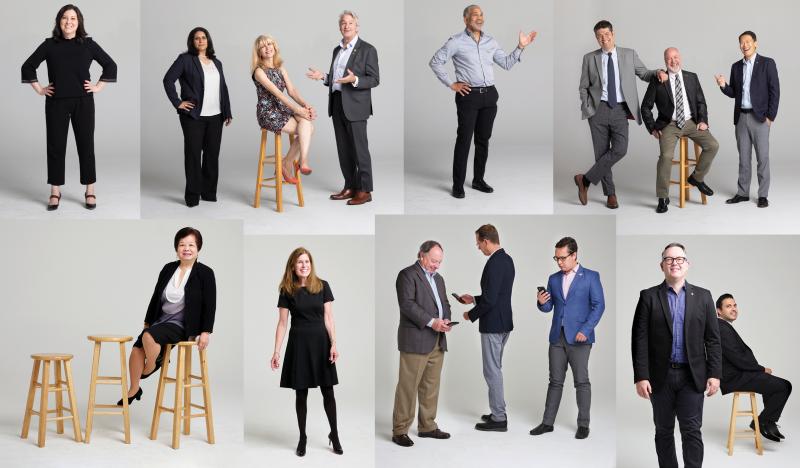 Inspired, Monterrosa envisioned a multiclub meeting. She's not sure how she landed on five — "it seemed like a good number" — but she took a chance and sent out emails pitching her idea to the leaders of Rotary's first five clubs. She was surprised and happy about their enthusiastic response. "The presidents of the clubs were all in," says Monterrosa.
In May 2020, Monterrosa and her new Rotary friends assembled via Zoom. The meeting, she emphasizes today, was not "limited to our five clubs. We hoped that other clubs would feel inclined to join and network and get to know each other." That's exactly what happened: About 300 Rotarians from across the United States as well as several other countries logged in to hear then-RI President Mark Maloney speak.
"In true Rotarian fashion, we started talking about a service project together," says J.T. Harold Forbus, the 2020-21 president of the Rotary Club of San Francisco. "We are all in major cities, and they all are facing the issue of homelessness. How do we pare that down to a project we can all do in our respective cities?"
After several planning sessions, the Rotarians decided to provide hygiene kits to homeless people. The kits, donated by the Latter-day Saint Charities, contained toothbrushes, washcloths, soap, and other personal care products. (Matthew Ball, the L.A. club's 2020-21 president, is the director of public affairs for the Church of Jesus Christ of Latter-day Saints.) The clubs also donated funds to buy additional kits, which they supplemented with socks, hand sanitizer, and other items, as well as contact information for local social service agencies. "We also put in personal notes of encouragement and positivity, so that the people receiving the kits could feel our interest in them as human beings," Ball says.
Working alongside the Salvation Army and community organizations, scores of Rotarians took to the streets in the five cities and helped distribute more than 12,000 kits. Jeffrey Borek, the 2020-21 president of the Rotary Club of Seattle, defined the undertaking as "an opportunity for amplification. If the Seattle club does something with kits for the homeless, folks will feel good about it. But if four more clubs join in, it has a multiplier effect. It also has a bigger potential to become newsworthy and generate awareness for the Rotary brand. We don't toot our own horn enough. How can you get new members to join if they've never heard of Rotary?"
"It was a great opportunity to bring people together, a good project for a group," adds Erik Cempel, the 2020-21 president of the Rotary Club of Chicago. "It was tangible and easy to see the end result. With the context that it was happening in five cities, it just sounds really impressive. It's big even for us, and it's part of something bigger. Service projects are a huge draw for a lot of people who want to be Rotary members. It's what we heard in our research: We don't want to just be writing checks."
That message of service, and the fact that the first five's inaugural collaboration was a success, resonates with Diane Netzel, a member of the Los Angeles club. "Projects like this are a way to engage younger members, to get them excited," she says. "They want to roll up their sleeves and get their hands on it; some older members want to do that, too. It's a great vehicle to show the community that we are vibrant and we can make a difference, and we'll attract members because of it. That's what this project did."
The distribution of the hygiene kits was the high point of the first five collaboration, but even the online meetings gave the participating Rotarians an infusion of energy during the lull brought on by the pandemic. "Everybody's got Zoom fatigue, and we worry about, 'Oh, here's another meeting to attend, another hour and a half of your time,'" Forbus says. "Regardless, people showed up. It was super encouraging, and that's why we decided to move forward with additional joint meetings. This is all about current member engagement."
The energy at the online meetings was generated by the variety of Rotarians in attendance, including RI President-elect Jennifer Jones, who spoke at the group's second meeting. "Where else could you get the first five Rotary clubs together in one meeting?" Forbus asks. "All five club presidents attended and had something to talk about. We had the guest speakers, and we had fellowship. After any large online meeting, most of the people drop off. But people stayed on after these meetings. For some people, it's just nice to talk to Rotarians outside your own club."
Cestra "Ces" Butner, the 2020-21 president of the Rotary Club of Oakland, agrees that the presence of Maloney and Jones boosted attendance and enthusiasm for the venture — a strategy that could continue to be used to engage members post-pandemic. "One thing we have to do is always have a high-profile speaker so we can attract an audience," Butner says. "The speaker is there to ignite the membership, and they did, as I heard from Rotarians from as far away as Sweden. And then you must have a theme, such as the homeless kits."
For Mary Johnstone, a corporate operations engineer at Google, the virtual-meeting phenomenon predated the pandemic. A member of the Seattle club, she hopes the lessons learned during the pandemic can be useful as the country reopens. "We used the tragedy of having to quarantine to broaden and include other clubs," she says. "Even though we've been forced into this virtual world, there are positives in reaching out across regions and creating relationships."
In Seattle, Borek welcomes the opportunities presented by the collaboration to extend his club's connections and expand the diversity of its membership. "Seattle was once known as more of a 'velvet rope' club," he says. "We used to turn folks away if they weren't at a certain stage of their career. We certainly moved away from that." He also likes the way the outreach to homeless people nurtured a feeling he thinks is essential to Rotarians. "Ask a bunch of Rotarians if they would say being a Rotarian makes you a better person, and every one of them would raise their hand. What better gift can you give a fellow human being than helping them be a better person?"
"Even though we've been forced into this virtual world, there are positives in reaching out across regions and creating these relationships."
For the organizers, the sharing of best practices has paid unexpected dividends, particularly as they discussed how to return to meetings, whether in person, online, or in hybrid sessions. "The beauty of sharing information is you can go outside your bubble," says Forbus. "It sparks new ideas. 'You do that? That's fantastic.'"
Having come up with the idea that created these cross-country bonds, Monterrosa is looking to deepen them in the future. "When COVID is behind us, we'll have the ability to expand the first five to social events," she says. "We have thoroughly enjoyed getting together. These have become my favorite people, and there's a desire to stay connected."
Others share that sentiment. "It's to the point where, when the pandemic is over, I want to make specific trips to cities to meet everybody in person," Forbus says. "We've got these bonds that we've created."
"The feeling is mutual," Cempel adds. "We'd all love to visit each other's clubs" — and this time, no handcuffs will be required.