Stein, who now oversees the National Park Service's eight National Heritage Areas in the Midwest, agrees. "No project is too small," he says. "Someone planting one milkweed seed is good. If someone wants to go out and restore a prairie, that's even better."
Restoring habitat will be key to the monarch's survival. But there are even bigger stakes. Butterflies aren't the only pollinators in trouble: So are bees, bats, moths, and other insects. Researchers have found, for example, that native bumblebee populations in North America have declined 46 percent in recent years. And the work those pollinators do has a direct effect on our own lives.
"Seventy-five percent of the world's plant species are dependent on pollinators to survive," says Stein. "I ask people: Do you like to eat?" Without the help of pollinators, he says, 30 percent of the food in any grocery store would disappear.
Fortunately, the same native plants that help monarchs also help bees and other pollinators. "Monarch habitat benefits a lot of things," says Caldwell. "Pollinator habitat is essentially about the plants and the ecosystem they support. Native plants support a higher diversity of insects, which feed the birds, which feed the other wildlife. It's all about the ecosystem. Monarch habitat is wildlife habitat, as opposed to lawns or monoculture crops."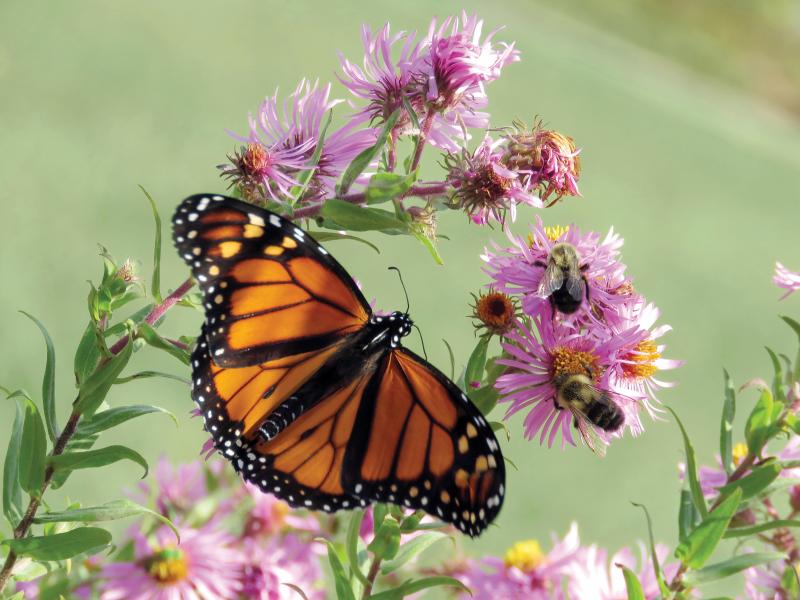 Operation Pollination
As 2015-16 governor, Marlene Gargulak visited all 63 clubs in her district, speaking at each one about the pollinator crisis and asking them to sign on to a "pollinator pledge" to take action. She sent letters to the governors of all 74 districts across the eastern monarch's territory asking them to do the same thing. The District 5960 conference that year included a sale of pollinator plants. In July 2015, Gargulak attended a meeting with former U.S. Vice President Walter Mondale, a resident of Minnesota, at which they discussed ways to increase pollinator habitat. The next month, she and Stillwater Rotarians Craig Leiser and Bev Driscoll met with U.S. Representative Betty McCollum of Minnesota to kick off Operation Pollination, a broad effort open to anyone interested in increasing pollinator habitat. The Rotarians also helped form the St. Croix Valley Pollinator Partnership, which brought together small-business owners; a baseball team; government agencies such as the National Park Service, Forest Service, and Fish and Wildlife Service; and private companies, including Andersen Corp. and Xcel Energy. In 2016, the partnership received a grant of $200,000 from the National Fish and Wildlife Foundation, allowing it to restore native habitat on nearly 1,000 acres of land and establish a 5-acre seed plot for milkweed and wildflowers at the St. Croix Correctional Center.
Stillwater, Minnesota, a city on the St. Croix River, signed the pollinator pledge. Across the river, the city of Hudson, Wisconsin, established a pollinator park. "The fellow who was in charge of the parks at the time said, 'I just didn't think it would work at all. But by gosh, the plants came up, it looks pretty, and butterflies and bees came!' " says 2011-12 District Governor Judy Freund, who has also worked to promote Operation Pollination beyond the district through the Environmental Sustainability Rotary Action Group.
"Anybody can participate in Operation Pollination," says Freund, a member of the Rotary Club of Hudson Daybreak. "Community members, Rotarians, businesses, and organizations. The pollinator pledge has been signed by many organizations in addition to District 5960. And of our club's almost 80 members, a good number have participated in planting pollinator gardens." Some, she says, have also planted pollinator gardens at home.
At least 31 clubs in the district have carried out pollinator projects since 2015, including one in Rice Lake, Wisconsin, where the city donated a plot of land for a butterfly garden and tree planting. A member of the Rotary Club of Barron County Sunrise, Bruce Goode, also hired a master gardener to design butterfly gardens in front of his Rice Lake restaurant. "We have two butterfly gardens," Goode says. "Once you're done planting, they just do their thing. It's pretty much self-sustaining. It's sort of like growing weeds, which I'm good at: You just whack them down in the fall and they grow right back in the spring."
When Peg Duenow, of the Rotary Club of Lakeville, Minnesota, heard about Operation Pollination, she and her fellow club members decided it was something they could get behind. They approached the city of Lakeville, which located a "triangle of grass" in a park where the Rotarians could put in a pollinator garden. They applied for, and got, a district grant of $4,000.