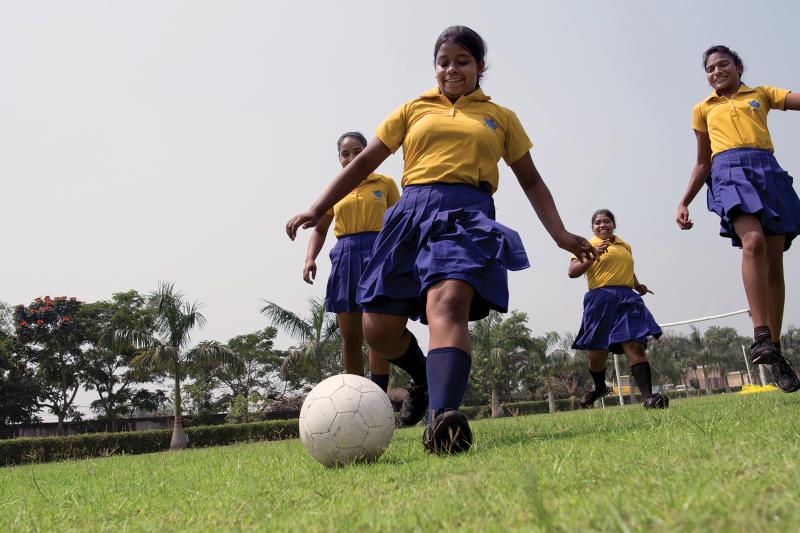 With help from her brother Bashker Biswas and from a humanitarian organization in India, Willingham settled on a site for her school in Piyali Junction. Situated about 25 miles southeast of Kolkata, the village is in one of the biggest districts for sex trafficking in the country. Many girls there are abused and sold into sexual slavery by their overwhelmed families for as little as $30 — often by the age of five — or they are married off at 13. The lucky ones work the fields or become house servants. "Deepa identified the main challenges facing the community," says Jayanta Chatterji, the India director for PACE and a member of the Rotary Club of Calcutta Metropolitan. "They were illiteracy, child labor, child marriage, child trafficking, and other atrocities, including extreme physical and mental abuse. And she took an oath to address those issues." (Willingham is equally effusive in her praise for Chatterji. "God was smiling on me the day I met him," she says. "I'm not at the school every day. Jayanta is.")
Willingham secured a parcel of land and began recruiting girls for the school, only to find their parents resistant. "The girls were part of their family income, so they didn't see any value in giving them an education," she says. "Somebody told me, 'You're taking a family's commodity away. They may come after you; they may even kill you.' But like Gandhi said, if they kill me, they will only have my dead body, not my spirit. And as long as I am alive, I will not allow the girls to be sold." Willingham explained to the fathers in Piyali how her education had enabled her to take care of her own parents in their old age. But it wasn't until she promised to feed their daughters two meals a day that parents began to agree to let their girls attend the school.
"We can't just give them education. We have to give them something to heal their hearts and their psyches."
Opening of PACE Learning Center
In 2003, the PACE Learning Center opened. On that first day, 25 filthy and hungry girls packed into a four-room shack with a tin roof, straw siding, and a mud floor. The school was equipped with a few kitchen utensils, some portable fans, and a few benches. The early days were not easy. Girls sometimes disappeared from one day to the next. When teachers wanted to throw birthday parties, they found that the children didn't know when they were born; they also didn't know what a party was. Most of the girls had intestinal worms, so Willingham put in a well, providing them with clean water for the first time in their lives.
"Soon, any time something went wrong in the village, they would come to the school for help," she says. "The roof of someone's hut blew off from the monsoon storms? We went to fix it. When a girl was on the verge of dying from a hole in her heart, we arranged for her to get surgery free of charge in the city." Within six months, enrollment had risen to 85 girls. Mothers began bringing their daughters and saying, I don't want her to have a life like mine. Help me.
Your money at work:Rotary Foundation grants have supported the PACE Learning Center and the surrounding community. Here's what those Foundation dollars helped to provide.
2007

Clean water for local villages

$21,200

2009

Adult literacy and vocational training programs

$18,425

2009

Community development program

$330,000

2010

Computer equipment for the school

$10,696

2011

School toilets

$55,555

2011

Diesel generator for the school

$14,559

2012

School bus

$23,020

2012

School furniture

$49,215

2012

After-school programs

$16,869

2013

Science lab and library

$10,437

2013

Commercial kitchen

$17,748

2013

Playground and landscaping

$50,000
As the school grew, so did its connection to the adjacent village. When Willingham realized the girls were still drinking dirty pond water on weekends, she applied for a Matching Grant from The Rotary Foundation for $15,200 to dig more wells in the village. (With a second grant, that amount grew to more than $21,000.) "That was the real beginning," Willingham says. "The village saw that not only were we building the school, we were bringing them clean water."
With support from Rotary clubs and The Rotary Foundation, PACE began to build roads and plant 10,000 fruit trees throughout the village. They added wells and built 400 sanitation units. And then came the health clinic and the ambulance, the ultramodern commercial kitchen, and the self-contained soil biotechnology treatment plant. The PACE Learning Center also launched an adult literacy program and began offering vocational training for the students' mothers. Little by little, what began as a tin-roofed hut grew into a sustainable village model for poverty eradication. "PLC is not just a school," Chatterji says. "It's a movement that provides holistic education to the first generation of girls in their families to attend school, while also empowering women of the community."
Today, the campus covers 3 acres and educates more than 230 girls from nursery school through 12th grade. And those girls are thriving, often through force of will. With no place to study in her home, one 10th grader, Anamika Sarkar, lugged her books to a nearby temple where she spent hours preparing for the board exam, which can significantly impact a student's prospect of getting into university or pursing her choice of career. (She received the highest grade in the class.) Other girls, traumatized by years of sexual abuse, find solace in after-school sports and arts programs. More than one student has written a play about the abuse she's experienced — and performed it in front of an audience that included her attacker. "We can't just give them education," Willingham says. "We have to give them something to heal their hearts and their psyches. The courage and perseverance that these girls show is amazing."
The impact of PACE
At the beginning of each year, families line up in hopes of landing one of the PACE Learning Center's 25 coveted spots for four- and five-year-olds. Admission is still need-based, but a funny thing has happened: The school has been so successful that the average family income in Piyali has jumped from $1 a day to nearly $5 a day. The process of identifying the neediest among the children has become so intensive that a former staff member joked that it was easier to get into Harvard.