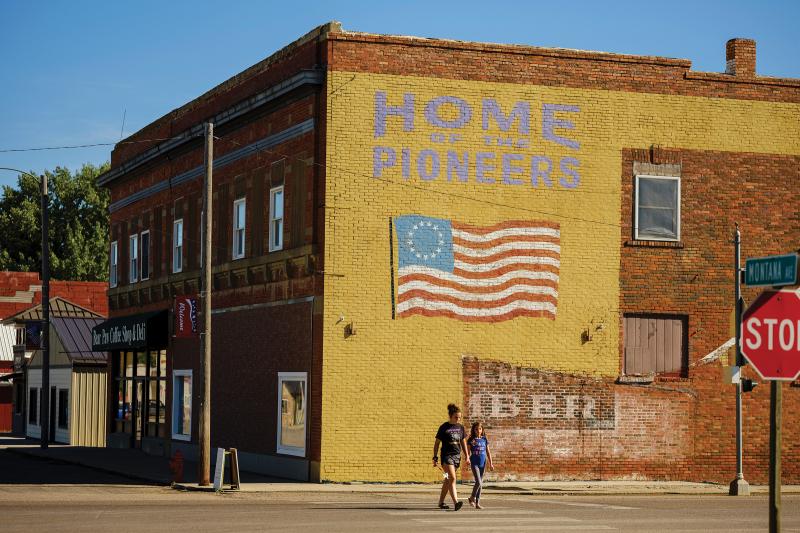 "The most successful businesses are the ones that are profitable but that also help improve the lives of other people."
I meet Quinn on a Monday night at the weekly meeting of the Rotary Club of Big Sandy. Quinn's connection to the club runs as deep as his connection to the town itself: His father, Mack, was a founding member. Quinn joined in 1979 after he returned from earning a PhD in plant biochemistry at the University of California at Davis. With crinkly blue eyes, a full head of silver hair, and a face that's weathered without being quite craggy, Quinn looks as if he could have stepped out of the pages of a Zane Grey novel.
Like the high plains figure Quinn cuts, and like the town he calls home, the meeting seems a step back in time. Held in the senior citizens center at the end of the two-block downtown, it features on this night a dinner of fried chicken, cottage cheese, and potato salad, doled out from aluminum foil trays. There are cold pitchers of lemonade, and a seemingly bottomless stainless steel urn dispenses piping-hot coffee.
Fourteen people, including a visitor from Germany who uses Quinn's grain, gather around a table where, after passing around worn copies of Rotary songs, they sing "Home on the Range" and "You're a Grand Old Flag" before reciting the Pledge of Allegiance.
Quinn joined Rotary, he says, for reasons bigger than wanting to continue the family legacy. He finds that the organization's Four-Way Test — with its emphasis on truth and fairness, goodwill and friendship, and a mutual concern for the well-being of all — dovetails with his own way of thinking. "My philosophy in work is 'everybody wins,'" he says. "The most successful businesses are the ones that are profitable but that also help improve the lives of other people."
In his 2019 book, Grain by Grain, which chronicles his "quest to revive ancient wheat, rural jobs, and healthy food," Quinn writes: "As an entrepreneur and scientist working in the midst of rural American poverty, I have seen firsthand how putting food and other fundamental goods like energy at the center of a value-added economy can foster health, economic opportunity, and ecological regeneration, particularly in some of our country's poorest com-munities. … I measure the success of my business by the degree to which it's added economic, ecological, and nutritional value all along the supply chain."
Today Quinn, at 72, travels the world spreading his gospel, which has as its premise that the way food is grown and produced — the Big Agriculture approach of making as much as possible as cheaply as possible, with a heavy emphasis on chemical pesticides and fertilizers — is destructive to the land, to communities, to farmers, and to our health. He also preaches the corollary: that organic farming not only is the right thing to do by consumers, but also is highly profitable for the farmer and a prescriptive for towns like Big Sandy that have found themselves struggling for survival.
The results have been as obvious as towering stalks of wheat, says Jon Tester, a U.S. senator from Montana whose life and career have also been closely intertwined with Big Sandy. "It's simply undeniable what he's done for the Big Sandy community," Tester says. "He's contributed jobs and a lot of economy to the town. We don't have enough people like Bob. He's fearless, a true entrepreneur who is not afraid to take risks, and at the same time he's somebody who believes in rural America."
Examples of Quinn's entrepreneurial spirit, and the greater-good benefits that derive from it, bloom like apple blossoms across his property. On the occasional tours he gives, which draw workaday farmers and ivory-tower agriscientists, Quinn refers to his land as his laboratory. It's clear why: There are his experimental gardens, of course, where he tries to see which fruits and vegetables can thrive in Montana's notoriously fickle climate — if only, he says, "to show people we can do something other than wheat and barley."
Ten feet underground, inside Quinn's root cellar, bins of potatoes, all grown on the farm — Yukon Gems, Red Norlands, Red La Sodas, and Purple Vikings — are kept naturally cool. "Potatoes are particularly hardy for our northern climate, and they have an excellent shelf life," Quinn says. A few hundred feet away is what he calls his oil barn. Inside, where Quinn milked cows as a boy, the seeds from farm-grown safflower are pressed into a cooking oil, which he sells to restaurants and grocery stores; it's also used in the kitchens at the University of Montana, after which the waste is returned to Quinn. "The oil we get back from UM is enough to provide about one-eighth of the fuel needs for our farm," he writes in Grain by Grain. (A pioneer in sustainable energy, Quinn played a leading role in creating the Judith Gap Wind Farm, which opened in central Montana in 2005.)
And then there is the ancient grain. Known as khorasan and rechristened — and trademarked — by Quinn as Kamut (pronounced kuh-MOOT), it likely originated centuries ago in the Fertile Crescent, that agriculturally rich region in the Middle East that gave birth to several ancient civilizations. Quinn was introduced to the grain at a county fair when he was in high school and an old man thrust a fistful of kernels in his hand and claimed they were "King Tut's wheat."
"I was amazed by how big they were: three times the size of the wheat we grew on our farm," Quinn recalls in Grain by Grain. "I had no inkling that this grain would, some 25 years later, change the whole course of my life."
Today, Kamut International is a global operation that, while promoting organic farming and healthful eating, also serves as a model for struggling farmers and small towns searching for a return to prosperity. "If you look at what Bob has pushed for and what he's done, it's not conventional," allows Tester. "I mean, it's not stuff that the university system would say, 'Go do this.' For example, in a time when [corporate farms] were shipping grain out in 52-car unit trains, he was setting up a cleaning plant to ship wheat out in 25-kilogram bags. He had a different vision for how you could market grain and make a few bucks off it and employ people."
Jacob Cowgill, who worked on Quinn's farm for two seasons before starting his own organic farm and bakery, marvels at Quinn's willingness to try the unconventional. "The thing that I took away from working with Bob is the idea of experimenting," Cowgill says. "He always has multiple projects that are still considered pretty radical and ahead of their time. In fact, it seems like anything that he jumps into is a radical idea — until it isn't and more people are doing it."
"He's the most incredible idea generator I've ever met," adds Bruce Maxwell, a professor of agroecology at Montana State University. "He has one after another — ways to make his own farm more sustainable and more profitable — but he's also got a real dedication to his community."