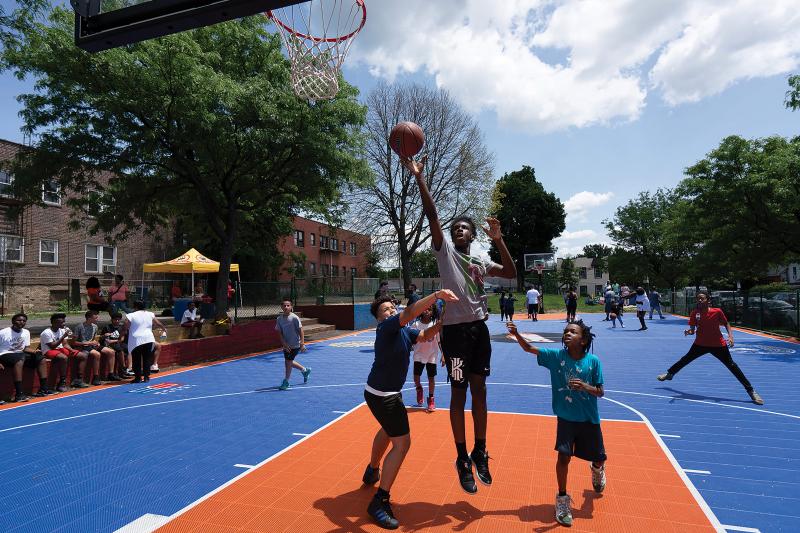 As Spano explained, the court could provide opportunities "to teach life lessons through basketball."
As the funding took shape, Rotarians began looking for a spot for the court. "Our concern was that it be put in an area that needed economic development," says Alix Schnee, the 2017-18 president of the Yonkers-East Yonkers club. "The other thing was that we had to work with the city government to see if we could find a park that the city would work with us in developing."
Spano approached the mayor of Yonkers, Mike Spano (no relation), and the city's parks department. City officials settled on a suitable location in an economically challenged part of Yonkers, John Barton Memorial Park, a place badly in need of repair yet big enough to accommodate a regulation-size basketball court. Once all the permits were obtained, workers tore up the old concrete surface and replaced it with a durable layer of impact-resistant polypropylene tiles. (The perforated surface allows water and dirt to drain through the flooring system.) After the orange and blue surface was put in place, workers installed the NBA-quality backboards, as well as two long wooden benches for players and bleachers for spectators.
In February, city officials, Rotarians, and other Yonkersites gathered at the court for the official ribbon cutting. Lieberman, who attended the ceremony, singled out Spano for special praise. "You had a vision for this, you were determined, you weren't going to let anybody steal your dream," she said. "You fought for this court — and here it is."
But building the court fulfilled only half of Spano's dream. Like Lieberman, he and his fellow Rotarians envision sports as an arena that can do more than impart lessons about slam dunks and fast breaks. To that end, they launched a six-week session that paired Dream Court basketball clinics with anti-bullying lessons.
The sixth and final session takes place on a cloudless day in late June. Beyond Barton Park, a midrise tenement of dun-colored brick overlooks a monochromatic street studded with row houses clad in shabby clapboard. A group of Rotary volunteers, including Schnee, Sundra Lee-Ingemanson, and Barbara Hanna, arrive early to set up a registration table, bring in the first wave of snacks and bottled water, and, later, distribute Rotary T-shirts to the kids. At the start, only a few children take to the court, but within minutes, five become 10, then 20, then 40.
Dressed in long shorts, red compression sleeves, and an oversize white T-shirt stenciled with the words "Hoops Against Hate," Spano patiently walks the kids through a series of drills designed to foster teamwork. "Three passes and a shot," he instructs. At first, the drill has mixed success — "Do you ever pass the ball?" one teen complains to another, who only shrugs and laughs — but slowly the kids catch on. A footwork drill, in which boys and girls step in and out of a rope ladder, has better success. Some of the kids place their feet carefully between the rungs, while others tap-dance back and forth in a rapid-fire blur.
At each session, Spano has arranged for a guest to talk about bullying. Today's speaker is Tim Hodges, first deputy chief of the Yonkers Police Department and a member of the Yonkers-East Yonkers club. Perched on the bleachers and eating pizza, the kids listen as Hodges, wearing his dress-white police commander's shirt and his shield, explains how he once dealt with a bully — his former superior, who had different ideas about policing. "He was my boss, and he was really mean to me because I didn't like to write tickets and I didn't like to arrest people," Hodges says. "I would rather play basketball with them or stickball or do fun stuff.
"So he got really mad at me," Hodges continues. "He said, 'You're never going to amount to anything on this job.' So I went home, and I was really upset. I didn't realize it then, but he was bullying me. And I was an adult!"
Rather than keep those feelings bottled up, Hodges looked elsewhere for help. "What I learned is that if someone is treating you bad, you go to the person you have confidence in," he says, seated alongside the kids. "Everybody has someone they have confidence in, right?" For Hodges, even as a grown-up, that person was his mom.
Her advice? Ignore the person. If he makes fun of you, walk away from him. It worked, Hodges tells the kids. Today, he's the boss of the guy who once bullied him.
As with Spano and many of the other volunteers gathered at the court, Hodges understands how Rotary's emphasis on Service Above Self influences his daily job as much as it does this afternoon's courtside session. After his conversation with the kids, he stresses how important it is for police officers "to get along with everyone in the community, which we didn't do years ago. We made so many mistakes; we thought we could arrest ourselves out of problems. Now, we've changed our whole concept."
And unlike his former boss, Hodges has different advice for his fellow officers. "Go play with the kids," he tells them. "Play with them in the streets." That shift from an adversarial mentality seems to be working, he says, and he offers some statistics as proof. Shootings, he says, are at historic lows in Yonkers. "Ten years ago, we were averaging about 60 a year. We are now at 16 — and hopefully, this year we go even lower."
Hodges takes a special pleasure in joining other members of the Yonkers community for today's session on the new court. The global grant from Rotary, he acknowledges, was "an amazing thing for them to do. It just helps, me being a public servant and now being involved as a Rotarian. It adds a little more credence to everything."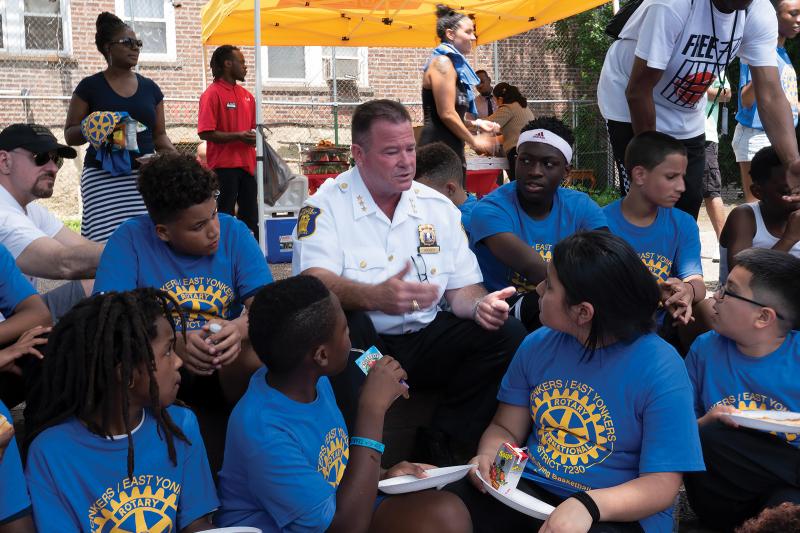 "What I learned is that if someone is treating you bad, you go to the person you have confidence in."
There are ample anti-bullying teaching moments on this Saturday — kids trash-talking, pointing, and laughing when someone misses a shot. Spano and the volunteer coaches counteract the negative energy simply through encouraging everyone, no matter his or her skill level. "We want to teach kids that they should fight for what they believe in," Spano says. "But you can do that without picking on another child, without trying to make yourself feel superior by making someone else feel inferior."
As the day's activities wind down, Debra Hogue, who lives nearby, expresses her gratitude for the program. Standing on a tree-shaded hill overlooking the court, she says that she brought her three grandchildren to each of the six sessions. "It's great because they get to know more kids — and everybody got along. It looks nice, too," she adds. "I love it. I love it!"
Hogue recalls how at an earlier session she hadn't paid attention to that day's speaker. But Isiah, her eight-year-old grandson, "took in every word." He even wrote a paper about the speech for a school project. "I was really surprised," Hogue says as she points out her grandson, a boy in a red shirt darting back and forth on the pristine court, shooting layups, grabbing rebounds, and laughing with friends.
Another participant, 14-year-old Omar Jallow, takes a break after several pickup games. "I'm really liking this program," he says. "I actually underestimated it. I was skeptical about the anti-bullying," but now he admits he has learned from the speakers. What he really loves, of course, is the court itself. "Good hoops," he says with a grin. "I wish I could come here more often, but my dad has to drive me here."
It's early afternoon when the program ends. Spano fist-bumps with the kids, some of whom stay to play a little longer. He explains how he hopes to build several more courts, one for each of Yonkers' six districts. For now, however, as the "thump!" "ping!" of bouncing balls echoes from the beautiful court blossoming like a blue and orange flower, Spano and the kids seem plenty thrilled with the one.
• Bryan Smith, senior writer at Chicago magazine, is the author of The Breakaway: The Inside Story of the Wirtz Family Business and the Chicago Blackhawks.
• This story originally appeared in the November 2019 issue of The Rotarian magazine.